28th April 2022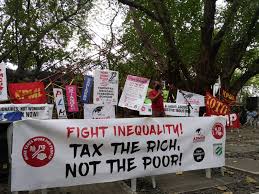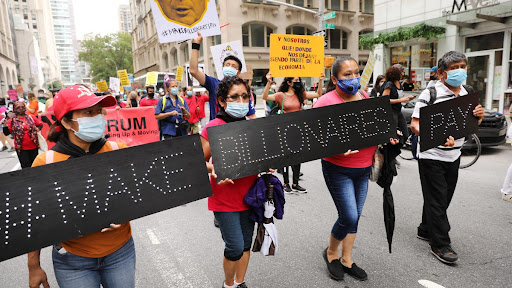 What: As the 1% gather face to face again at the World Economic Forum in the luxury Swiss mountain resort of Davos in May, we as Fight Inequality Alliance will protest in cities and towns across the world to say we need to 'Tax The Rich'.
When: The WEF meets from Sunday 22 May - Thursday 26 May. To have maximum impact, please organise your protest from Saturday 21 May onwards.
Who: Everyone should mobilise. Especially members of the Fight Inequality Alliance, allies, peoples most affected by the inequality crisis. Everyone can mobilise where they are. This is about a visible show of people power around the world to tell our governments to stop listening to the 1% and start listening to people most affected by inequality.
Where: Mobilise in the closest city or town to you. This is not about travelling long distances to one central location, it is about everyone taking part where they are. Pick a relevant location that will take your message to your campaign target and tell the story of why we need to #TaxTheRich - your national finance ministry or local government offices, outside a large multinational who aren't paying their fair share of taxes, a big pharmaceutical company that has profited from hoarding Covid-19 vaccine patents, a billionaire's home, etc.
Why: We are two years into a pandemic that should have no winners. We have heroes, yes. The nurses. The shop staff. The waste collectors. But we have all lost and inequality has spiralled.
But the billionaires think they have won. They go to Davos toasting the biggest increase in wealth we have ever known. While millions have died and many more face a daily struggle to survive. For years our governments have responded by raising their glasses at the altar of extreme wealth. If there was ever a moment for governments to get out of bed with the billionaires it is now. We are remaking our economies from the grassroots up - to build a system that works for everyone, not the richest.
Davos must be a moment of contrition from our governments, not a celebration of greed. They have put billionaires before billions of people. We demand they #TaxTheRich - to take back the extreme wealth taken by billionaires and invest it in fighting inequality, in our societies and our futures.
This week we will show that the richest people and corporations are not paying their fair share in every single country. A show of people power that our governments and the multinational leaders who attend Davos are wasting time and money upholding the status quo. We're demanding a very different future, led by our people power, not the Davos elite.
How: 
Organise, organise, organise. Plan your photo stunt with as many members and allies of Fight Inequality Alliance as you can. 
Pick an iconic location that will help tell the story of why we need to #TaxTheRich - your national finance ministry or government offices, outside a large multinational who aren't paying their fair share of taxes
Pick a time and date from 21-26 May
Make your banners and placards. Draw them by hand to personalise your message, or use these templates to get you started
Make sure you publicise your stunt and invite others to join
Share your protest action on social media using the hashtags #TaxTheRich and #QueLosRicosPaguen. Pictures and videos tell the story.
Invite the press and make sure you have pictures and video to share with them to spread the message further
Amplify the protests of others that you see on social media. Solidarity is critical.
Stay safe. Get the permissions you need and observe Covid-19 protocols.
Spread the word: Make sure you invite as many people as possible to join. When you've organised your protest email the location and details through to info@fightinequality.org. We want protests in Islamabad, New York, Manila, London, Berlin, Mexico City, Johannesburg, Delhi, Lusaka, Nairobi, and far beyond. The movement and the message is global, so let's make that visible this week.