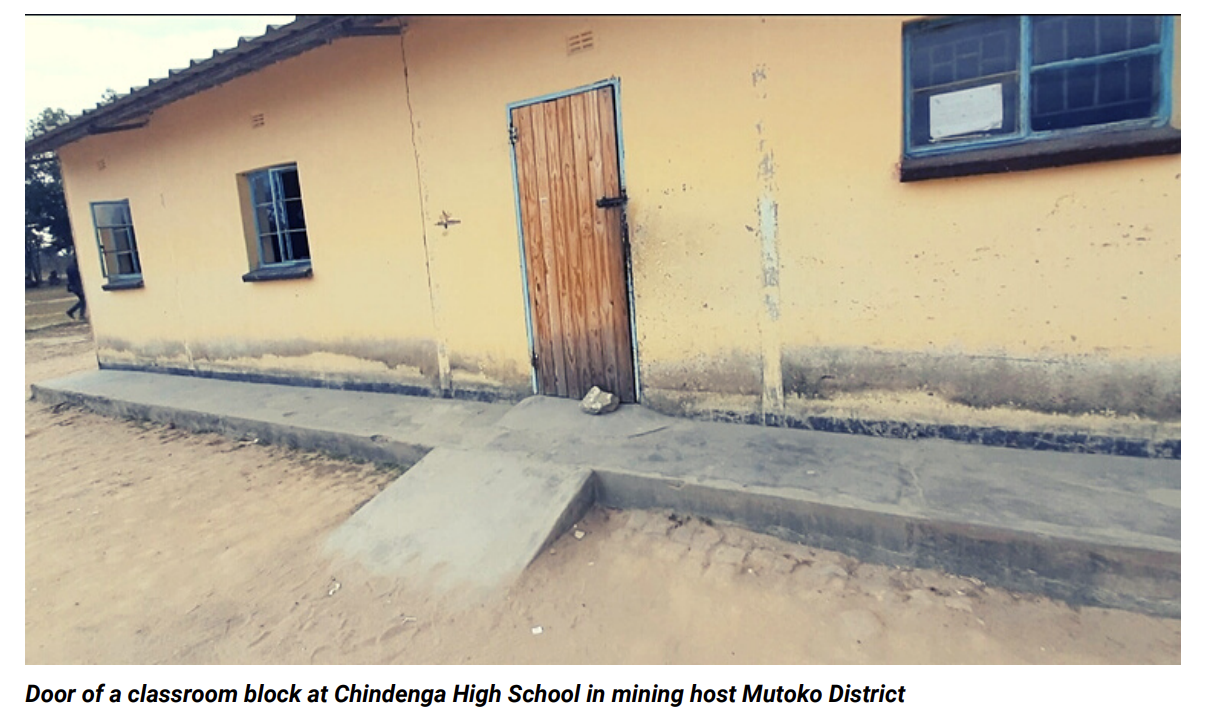 This is how one of the doors of a classroom at Chindenga High School in mining host Mutoko District in Mashonaland East Province, Zimbabwe looks like. The door is balanced by a stone due to the absence of a functioning locking system. On that same block, on a 12 window frame, only 4 have glass panels.
The outlook of the school clearly depicts the quality of education which learners attain and definitely it is not the kind one can attain from a private school in Zimbabwe's capital city Harare, but the kind of poor education which remains a preserve of the marginalised. Heartbreakingly, Chindenga High School is located in Mutoko District, a mining host community. Ideally, one wouldn't expect such kind of a school being located in a community largely endowed with black granite which when polished can be used for a variety of purposes including as material for kitchen worktops, facades, flooring tiles, fireplace surrounds, bar tops and other lavish projects. Despite the international value of processed and polished black granite, the Mutoko community cannot relate. Driving through a dusty road from Mutoko Centre to Chindenga High School one's attention is easily driven to the giant boulders of granite being sliced in halves by miners including multinational corporations. Not a day pass without the departure of huge trucks laden with a slab or two of black granite from Mutoko, destined for Port of Beira in Mozambique. When behind the truck, one can hardly see the block as the trucks will be stirring up clouds of dust, a clear sign that the mining activities happening in the area are not contributing much to road infrastructure.
Granite is often referred to as the symbol of status, strength, and durability but this is not the case in Mutoko, home to black granite. Although black granite is believed to have been mined in Mutoko for about 50 years ago, locals have nothing to show for it. What the communities are left with are scattered rubble; environmental degradation, cracked houses, decimation of livelihoods, loss of community aesthetic beauty through destruction of mountains and increased farmer- miner conflicts. Mutoko is thus like any other mining host community in Zimbabwe which are living in poverty in "a sea of plenty." Back to Chindenga High School, since establishment, the school has no library yet it exists side by side with multinational corporations headquartered in wealthy nations. The communities continue to pin their hopes on the goodwill of mining communities for mining related social benefits. Natural Stone Export Company, one of the mining companies, which has been in existence for decades donated a library block currently under construction at Chindenga High School as a way of ploughing back to the community. However, the school authorities are not yet clear on whether the company will proceed to donate books, furniture and other library requirements or it will just end by donating a "shell" library building.
The library is being constructed behind the classroom block described earlier on and one would wonder why the company is not also improving the state of other learning facilities at the school. Given the international market value of polished black granite, the companies are racking in millions of dollars and therefore their contribution to the mining host communities must not be "tokenistic" but must contribute meaningfully to the community. The presence of multinational corporations in Mutoko for decades clearly testifies to these companies making huge profits from the rock but the social and economic challenges and infrastructural gaps bedeviling Mutoko District are typical case of the "natural resource curse."
According to Mining Zimbabwe, it is estimated that Zimbabwe produces approximately 150 000 tonnes of black granite annually with Mutoko contributing about 75% of that output. If these figures are anything to go by then the infrastructural deficit in the district are not commensurate to the amount of black granite mined from the district. What could one expect when it has been reported that Mutoko Rural District Council has for all these years been getting a paltry US$1.00 for every tone of black granite mined as tax yet. On another note, this was unavoidable since for years, the black granite slabs were exported in their raw state for cutting and polishing by developed nations at the detriment of local development and environmental sustainability. The export of raw black granite meant exportation of jobs and diminishing the prospects of locals benefiting meaningfully through job creation. Many thanks to the government of Zimbabwe which, through Statutory Instrument 127 of 2022 S.I. 126 of 2022, the Mines and Minerals (Prohibition Order of Exportations of Unprocessed Granite) Notice, 2022 banned the exportation of unprocessed granite.
If implemented in letter and spirit, the ban has the potential to create jobs and stimulate local development. The setting up of a granite processing plant in Mutoko is also a commendable move towards community beneficiation. However, to tap into this potential, there is need for strong and deterrent mechanisms to plug leakages in form of the exportation of unprocessed granite by unscrupulous and unaccountable mining companies and individuals. The government must also monitor to see to it that those with preexisting valid contracts for the export of unprocessed granite start processing the rock as soon as their contracts expire. There is also need for the government to ensure that there is genuine dialogue between communities and mining companies towards sustainable community beneficiation.